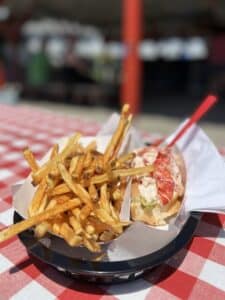 "Cool lobster meat lightly tossed with mayo served on a buttery grilled roll, served poolside." That's how we serve our Rhumb Line lobster roll, revered the world over!
We're the first stop on the Kennebunk-Kennebunkport-Arundel Chamber of Commerce's popular Lobster Roll Trail of the Kennebunks. It's a collection of 25 local restaurants renditions of our most visitor popular meal here, noting whether they serve it hot or cold, with butter or mayo, on a roll, bun or sandwich, and other "secret" ingredients that may make your mouth water for more!
While you're at it, you'll also need an icy Rhumb Punch to wash it all down. Our Rhumb Punch with a Myer's floater screams summertime vacation at this summertime resort. Along the same lines as the Lobster Roll trail, there is also a Cocktail Trail of the Kennebunks, with 25 tempting cocktails served around the Kennebunks.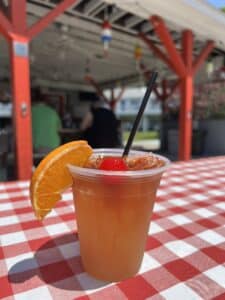 And if you still have room after all that? There also is an Ice Cream Trail of the Kennebunks!