Birthdays are better at the Rhumb Line! Let us host your next celebration. We can accommodate up to 15 children for two hours, with access to our indoor pool and birthday party room for games, cake and presents. We supply the venue, allowing you to customize the party with your own decorations and cake. Rental fee is $50 for pool members ($100 for the general public), plus $10 per swimmer.
Please fill out the form below, or call the front desk at (207) 967-5457 for email [email protected] for details and reservations.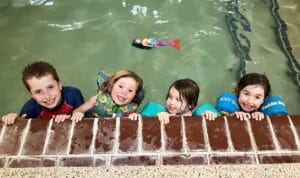 Frequently Asked Questions
How does a party run? We typically host parties from 1 to 3 PM Saturdays and Sundays, allowing the kids to swim for an hour before changing for cake and presents in the adjacent birthday room.
Is there a lifeguard on duty? No lifeguard is on duty, and parents are responsible for all guests.
Do parents stay at the party? That's up to each parent. The host parent is responsible for supervising all children at the party.
Do you supply towels? No, each guest must bring their own towel and suit. A changing room is available.
Do you close the pool to guests during the party? No, the pool is open to all guests during birthday parties. Guests will usually chose to swim at a different time, but be aware that we do not close the pool for private parties.
Where do I park? Plenty of parking is available on the right side of the building after you enter the driveway. Please have all guests arrive for the party through the front door.
Thanks for your interest. Please complete the form below to send us your question or comment and we'll get back to you as soon as possible!
---