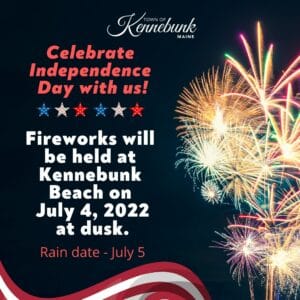 Big! Bang! BOOM! This year our community Fourth of July fireworks will light the sky after dusk on Monday, July 4 — should be just after 9 PM. (Thank goodness, last year's fireworks were postponed because of Covid concerns, coupled with a high tide that would have left folks piled upon each other at the beach!) Thankfully, there will be plenty of room on the beach because the water will be going out for a 9:45 PM low tide. Kennebunkport and Kennebunk share the celebration since you can see the lights display from both sides of the river.
So where is the best place to spend the Fourth and really *feel* the fireworks? We've scoped out the area, and based on our years of experience, we offer the following recommendations:
Gooch's Beach: This is the most obvious spot because the fireworks are set off from Narragansett Point between Gooch's and Middle Beach, so they're almost literally on top of you! Low tide occurs that night at 9:45 PM, and there will be tons of beach so you can spread out and the kid can run. Bring your chairs and a blanket, and pack a picnic dinner to enjoy the whole night there. Parking is extremely limited and available by permit from the electronic kiosks there.
St. Ann's Church: Set on the edge of the rocky cliffs along Ocean Avenue, St. Ann's grounds are free and open to the public daily. And after dark for the fireworks, it's pretty magical! Bring your chairs and a blanket, and pack a picnic dinner to enjoy that night. Parking is extremely limited so get there early.
Ocean Avenue: This is also a vantage point for the fireworks because Ocean Avenue is set just above the water and you have a whole panoramic view of the ocean. There are a few patches of grass with benches scattered along the edge. After 5 PM, on July 4 only, Ocean Avenue becomes a one-way street to accommodate all the cars.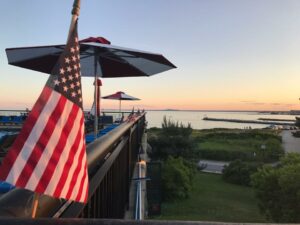 Colony Hotel:
Non-guests are welcome to dine at their poolside open-air restaurant, enjoy the love music there, and stay for the fireworks. This spot is always a favorite because the hotel is set on a rolling hill high above Ocean Avenue and you can see forever from there. Cool note: From here on a clear night you can see all the fireworks lighting the sky from Hampton NH to Kennebunk, and it kinda gives you the chills! Let freedom ring!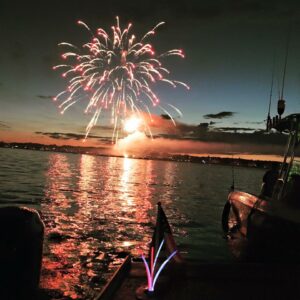 Aboard Kylie's Chance or Nick's Chance:
Watch the fireworks from the water for a really spectacular viewpoint! These boats docked from Performance Marine behind the Pilot House have limited tickets for their fireworks cruise. Tickets are $27 and
reservations may be made here
.