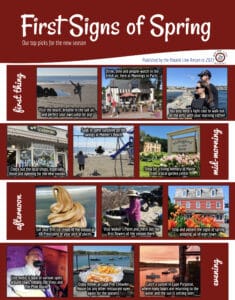 It's (finally) spring in Kennebunkport, and while every season has its charm here, there are certain things we look forward to every spring!
Love that beach air! Maybe because we've been largely indoors these last few months, we love going for a long walk on Goose Rocks Beach to really soak up the spring air. Kinda makes us jump for joy!
Same with dining, sipping coffee or savoring a cocktail on the patio. After being cooped up indoors all winter, it's especially appealing to find an open patio (say Mornings in Paris) or a sunny deck (Batson River) and relax in the open air.
We love walking the jetty on either Kennebunk Beach or Colony Beach in Kennebunkport, and this time of year you can ditch the hat and mittens and stay comfortable in just a light jacket!
Many shops remain open all year, but there's also the seasonal select that re-open this time of year and it always feels so fun to get out and see what's new!
Who says the KBIA playground at Mother's Beach is just for kids? Those swings overlooking the Atlantic are pretty spectacular this time of year!
We have a healthy crop of incredible plant and flower shops to browse! Snug Harbor Farm, Wallingford Farm, Estabrooks, Frinklepod Farm, plus a handful of Maine roadside stands suck as Spy Haven Farm. Something from them makes a great living memory of Maine to bring home!
Most ice cream spots close for obvious reasons, so it's always a treat to make the rounds when they re-open in the spring. Rococo Ice Cream, Ben & Jerry's, Goose Rocks Dairy, HB Provisions are among our favorite. Need more direction? Check out the Chamber's Ice Cream Trail here.
Visit Walker's Point, home of the George Bush family, and check out the first flowers of the season there. The planters by the Anchor to Windward are always adorned with seasonal flowers, and it's just another sign of spring on Ocean Avenue.
Homeowners and shopkeepers are busy sprucing up their spaces, and those daffodils, tulips and other planted pots are a colorful sight for winter-weary eyes!
Ahhh, live music! It's great to have options again, specifically Old Vines Wine Bar, The Pilot House, Ryan's Corner House, Hurricane and The Blue. Tourist & Town maintains a weekly listing here.
Enjoy dinner out … and by that we mean outdoors! Cape Pier Chowder House is open for the season, and many more seasonal spots are opening every week.
Catch a sunset in Cape Porpoise! The sun is setting later, and Cape Porpoise is one of the most picturesque places to catch a Maine sunset. It's a working waterfront with views of Goat Island Light, and as more fishing boats return to the harbor, it's quintessential Maine!