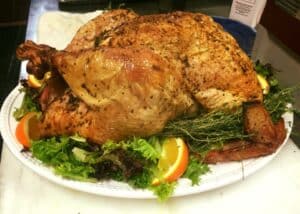 If escaping to Kennebunkport sounds tempting to you this Thanksgiving, let us offer you some dining options while you stay with us:

Cape Porpoise Kitchen:
Serving up Thanksgiving to go for pickup between Wednesday or Thursday, Nov. 24 between 7 AM and 12:45 PM.
Full menu here
. All side dish items will be packaged in one-pound (feeds 2-3) or two-pound (feeds 4-6) containers. Please place your order accordingly based on your total number of guests and if you would like to have any leftovers. All Thanksgiving orders must be placed by 2 PM Friday, Nov. 18. You must speak to someone in person or on the phone to place your order (207-967-1157). A credit card will be required to confirm your order.

Mike's American Diner:
Roast turkey dinner includes cranberry and goat cheese salad, roasted turkey with mashed potatoes, butternut squash and carrots, cranberry stuffing, gravy and dinner rolls, plus a choice of desserts such as pecan pie, pumpkin pie, lemon meringue pie, chocolate cream pie or lemoncello cake, for $32.95. Pre-order this take-out meal by calling (207) 502-7739. and pick up on Wednesday between 12-4 PM.

Ocean at Cape Arundel Inn & Resort:
Thursday, Nov. 24, from 1 to 6 PM. Executive Chef Peter Rudolph has prepared a three course tasting menu with seasonal tastes of Maine and New England.
The Pilot House:
Serving 3-9 PM Thursday, Nov. 24, no reservations necessary to feast on a traditional Thanksgiving Day turkey dinner, $23.99; roast beef tenderloin, $21.99; baked haddock, $22,99.

Project Pilgrim:
Community Harvest's 24th annual Project Pilgrim Thanksgiving Meal on Thursday, Nov. 24, will once again be offered by curbside pickup or delivery, due to ongoing concerns with Covid 19. All meal reservations must be made in advance by Sunday, Nov. 13. Once signed up, you will be assigned a time to pick-up your meal on Thanksgiving Day from St. Martha's Church in Kennebunk. To reserve a meal you can call (207) 967-1911 or fill out the short form 
LOCATED HERE
.

Talula's:
Preorder complete take-out meals, or just dessert, brunch and/or sides, and pick up Wednesday afternoon. Call (207) 274-0247.