It sure is quiet about Kennebunkport in the winter. Many folks find it a relaxing change from the hustle and bustle of the summertime — a time when we can make our own fun if you know where to start! Here it our Top 10 list of ways like like to warm up winter: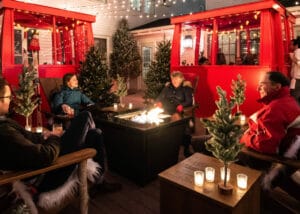 Creative Outdoor Dining, such as Fish Shacks at Batson River Brewing & Distilling or Gondolas on the Boathouse deck. With advance reservations, you can enjoy a winter menu of dinner and drinks here! They were originally crafted spaces in 2020 as a fun, safe way to dine out, and these Instagram-worthy options have been a HUGE hit!
Curling at the Kennebunkport Inn: Warm up by the firepits in between curls, and enjoy learning this Olympic sport right in the heart of Dock Square! Reservations here.
Free Skate at the Waterhouse Center: Bring your own skates at this new community rink in downtown Kennebunk open to all! No matter the weather this winter, skating is the think to do during winter here. Chillers keep the ice cold, and the pavilion roof keeps the ice clear. No skate rentals are available at this time, so be sure to plan ahead and bring your own skates. For a hot chocolate warmup, visit nearby Boulangerie or Christian's Cafe. (New in 2022, Kennebunkport Rec has a small outdoor ice rink on Parson's Field next to Consolidated School. The ice is open to the public from dawn to dusk, and some loaner skates are available for use in limited sizes.
Garden Street Bowl: Part bowling alley, part restaurant, part arcade, Garden Street Bowl is a great place to spend a cold Maine afternoon or night. It features big-ball bowling across 10 lanes, plus a game room (think Skeeball and Ms. Pac-Man, giant Jenga, corn hole and traditional arcade games) and an eclectic restaurant featuring creative gastropub cuisine. The taphouse bar features craft beer, wine and cider among other offerings.
Cross-Country Skiing at Harris Farm: Harris Farm in Dayton offers 40 kilometers of trails across the open fields and sheltered forests of its 6,00-acre dairy and vegetable farm. Trails range from gentle beginners' loops to rolling terrain for more advanced skiers; 30 kilometers are groomed with wide skating lanes, and 35 kilometers are track set. Fat-tire bikes are also permitted. Ski and snow-shoe rentals are available; open 9 a.m. to dusk daily, weather permitting. Details here.
Fireside Dining: Enjoy a lunch or dinner by candlelight or fireside. Our favorite cozy restaurants this time of year include Bandaloop (huge fireplace in main dining room), Kennebunk Inn (double-sided fireplace overlooking the skating rink), and The Lost Fire, an Argentinian style steakhouse with a warm open kitchen best enjoyed from the bar area. Old Vines Wine Bar uses real candles on their tables, and Chez Rosa has an especially comfy, cozy vibe!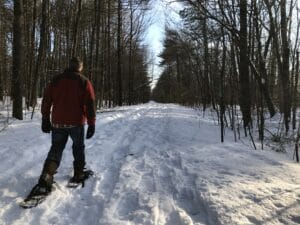 Hit the Trails: Trails are open for winter recreation at both the Kennebunkport Conservation Trust and the Kennebunk Land Trust — and especially beautiful under a blanket of freshly fallen snow! We especially love the Bridle Path, accessible from Route 9 by the Mousam River bridge, for a quick, scenic walk.
Beach Walks: What makes the sandy beach so great to walk in January? There's never any slippery snow and ice near the water's edge! You have your choice of sand or sidewalks at Gooch's Beach in Kennebunk!